Alternative Name
P2Y purinoceptor 2, P2RY2, P2U1
The specificity of this antibody has been validated in a knockout (KO) or knockdown (KD) system.
Immunogen
Peptide (C)KPAY GTTGL PRAKR KSVR, corresponding to residues 227-244 of rat P2RY2 (Accession 

P41232

). 3

rd

 intracellular loop (i3) between TM5 and TM6 domains.
Accession (Uniprot) Number
P41232
Peptide confirmation
Confirmed by amino acid analysis and mass spectrometry.
Homology
Mouse - 18/19 amino acid residues identical; human - 17/19 amino acid residues identical.
Purity
Affinity purified on immobilized antigen.
Form
Lyophilized powder. Reconstituted antibody contains phosphate buffered saline (PBS), pH 7.4, 1% BSA, 0.05% NaN3.
Storage before reconstitution
The antibody ships as a lyophilized powder at room temperature. Upon arrival, it should be stored at -20°C.
Reconstitution
25 µl, 50 µl or 0.2 ml double distilled water (DDW), depending on the sample size.
Antibody concentration after reconstitution
0.8 mg/ml.
Storage after reconstitution
The reconstituted solution can be stored at 4°C for up to 1 week. For longer periods, small aliquots should be stored at -20°C. Avoid multiple freezing and thawing. Centrifuge all antibody preparations before use (10000 x g 5 min).
Standard quality control of each lot
Western blot analysis.
Applications:
ic, if, ifc, ih, ip, wb
Western blot
Western blot analysis of rat (lanes 1 and 3) and mouse (lanes 2 and 4) brain membranes:

 

1, 2. 

Anti-P2Y2 Receptor Antibody (#APR-010), (1:200).

 




3, 4. 

Anti-P2Y2 Receptor Antibody, 

preincubated

 with P2Y2 Receptor Blocking Peptide (#BLP-PR010).

 

Mouse mIMCD-K2 cell lysate (4 μg/ml) (

Rajagopal, M. et al.

 (2011) 

Am. J. Physiol. 301,

 F544.).
Immunoprecipitation
Rat DRGs (

Arthur, D.B. et al.

 (2005) 

Proc. Natl. Acad. Sci. U.S.A. 102, 

19138.).
Immunohistochemistry
Rat dorsal root ganglia (1:300) (

Mo, G. et al.

 (2013) 

Mol. Pharmacol. 83,

 640.).

Human eye tissue (

Fries, J.E. et al.

 (2005) 

Invest. Ophthalmol. Vis. Sci. 46,

 3000.).
Immunocytochemistry
Rat PC12 cells (1:100) (

Arthur, D.B. et al.

 (2005) 

Proc. Natl. Acad. Sci. U.S.A. 102, 

19138.).
Indirect flow cytometry
The control antigen is not suitable for this application.
Scientific background
The P2Y receptors belong to the G-protein coupled receptor superfamily. P2Y receptors mediate the actions of the extracellular nucleotides (ATP, ADP, UTP and UDP) and regulate several physiological responses, among them, cardiac function, platelet aggregation and SMC proliferation.1
The mammalian P2Y family currently includes eight functional receptors; P2Y1, P2Y2, P2Y4, P2Y6, P2Y11, P2Y12, P2Y13, and the UDP-glucose receptor, now renamed P2Y14 .2-4
The P2Y2 receptor is abundantly expressed in the apical membranes of several epithelial tissues including airway.5 It has become a leading candidate for the treatment of cystic fibrosis. Activation of P2Y2 receptor increases Cl- efflux and mucociliary clearance, effects that might relieve symptoms of cystic fibrosis. P2Y2 agonist therapy is tested in an attempt to bypass the dysfunctioning CFTR channel. Several P2Y2 receptor agonists, especially INS37217, being evaluated as possible targets for the treatment of cystic fibrosis.6
Application key:
CBE- Cell-based ELISA, FC- Flow cytometry, ICC- Immunocytochemistry, IE- Indirect ELISA, IF- Immunofluorescence, IFC- Indirect flow cytometry, IHC- Immunohistochemistry, IP- Immunoprecipitation, LCI- Live cell imaging, N- Neutralization, WB- Western blot
Species reactivity key:
H- Human, M- Mouse, R- Rat
Image & Title: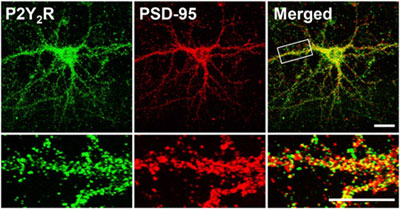 Expression of P2Y2 receptor in rat cortical neurons.Immunocytochemical staining of rat cortical neurons using Anti-P2Y2 Receptor Antibody (#APR-010). P2Y2 receptor immuno-colocalizes with PSD-95, the synaptic marker.Adapted from Choi, R.C. et al. (2013) Mol. Pharmacol. 84, 50. with permission of the American Society for Pharmacology & Experimental Therapeutics.
Last update: 08/01/2023
Anti-P2Y2 Receptor Antibody (#APR-010) is a highly specific antibody directed against an epitope of the rat protein. The antibody can be used in western blot, indirect flow cytometry, immunoprecipitation, immunocytochemistry, and immunohistochemistry applications. It has been designed to recognize P2RY2 in rat, mouse, and human samples.
For research purposes only, not for human use
Shipping and Ordering information
Need Help With This Product?
Our reagent specialists are here to help you find the best product for your application. Please call or email us and we will be happy to help you find the right product for the job.